Phone / WhatsApp: +212 668 57 53 40








We provide top-quality motorcycles for our Morocco and Merzouga Moto Biking tours, ensuring that you have a safe and comfortable ride. Our bikes are regularly serviced and maintained to ensure that they are in top condition for your adventure.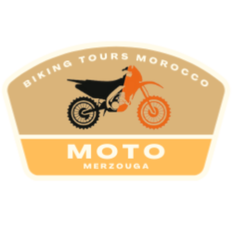 Price quote / Contact











Phone / WhatsApp: +212 668 57 53 40


Our Motorcycle Morocco tours are designed to give you a unique and unforgettable experience of the Merzouga desert dunes and other stunning landscapes of Morocco.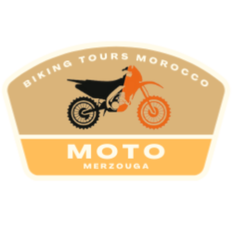 All Morocco KTM Tours

You'll have the opportunity to discover natural wonders such as Kasbahs, hidden oases, valleys, gorges, and mountains. Additionally, you'll explore historical sites including the fortified Kasbah of Ait Benhaddou, Taourirt Kasbah, and Telouet Kasbah, as well as attractions in Marrakech and monuments in Essaouira. You'll also experience several desert activities such as camel trekking, hiking, and sandboarding, and spend a spectacular night under the stars in the Sahara desert.
7-DAY KTM MOTO BIKING DESERT TOUR FROM MARRAKECH TO FOUM ZGUID
Are you looking to embark on a thrilling motorcycle tour? Look no further than our expertly designed tours, tailored to provide an unforgettable experience for motorcycle enthusiasts. Our tours include the use of touring motorcycles optimized for long-range travel and luggage capacity. With special preparations such as route planning, packing essential tools, finding food and fuel in remote areas, and ensuring the rider's physical well-being, we have you covered every step of the way. Whether you prefer camping or attending motorcycle rallies, our tours offer the perfect opportunity to explore unfamiliar areas and take in stunning landscapes. Get ready for an adventure of a lifetime with our motorcycle touring packages.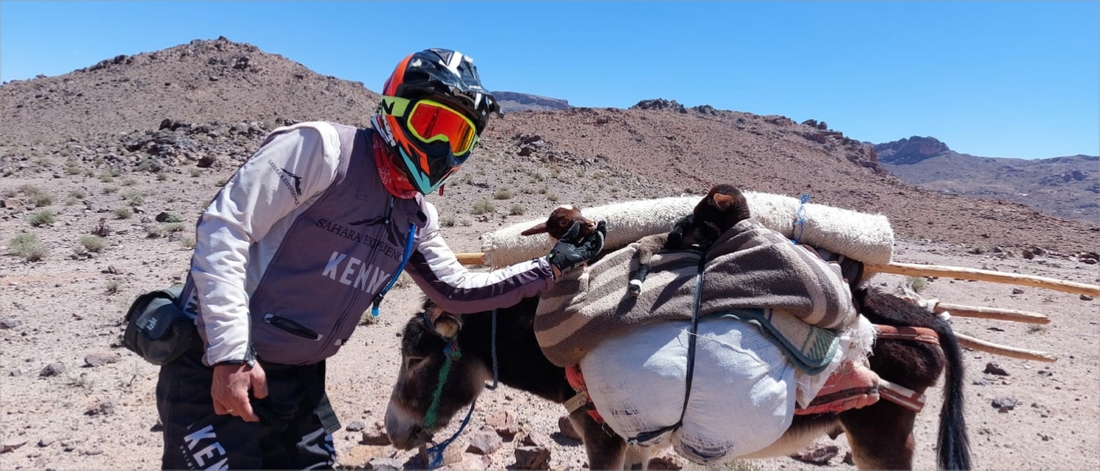 Price quote / contact

Private AC Vehicle + Fuel.
The Rental Of One Motorcycle

Experienced English-Speaking Driver (Guide).


Assistance Vehicle And Mechanic
Insurance Of Motorbike During Our Tour

Camel Trek With Professional Guide (Desert Tours).


Airfare. Fuel. Riding Gear. Fines.
Room Service Charges. Laundry.

Rest-Day Activities Not Included In Our Itinerary.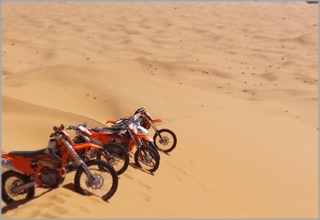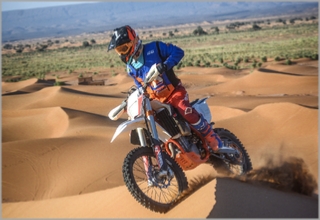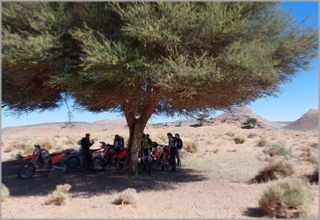 Meals. Medical Or Repatriation Insurance

1 Night Stay With Breakfast At Desert Camp

Pre-And-Post Tour Hotel Accommodations.

Reserve Your Tour
7-DAY KTM MOTORCYCLE DESERT TOUR FROM MARRAKECH TO FOUM ZGUID
This 7-day KTM tour from Marrakech takes you through the Sahara Desert and the cities of Ouarzazate and Marrakech. It's an ideal circuit that allows you to explore different landscapes in a short amount of time.
INCLUSIONS & EXCLUSIONS FOR 7-DAY KTM MOTO BIKING DESERT TOUR TO FOUM ZGUID
Morocco is a North African country located on the Atlantic and Mediterranean coasts, known for its unique blend of Berber, Arab, and European cultures. The medieval medina of Marrakech is a bustling district with a labyrinthine appearance, featuring the famous Jemaa el-Fna square and its vibrant souks selling ceramics, jewelry, and metal lanterns. The Oudayas Kasbah in Rabat, the capital, is a 12th-century royal fortress with stunning views of the ocean.
For those seeking adventure in the Moroccan desert, spending a night in the Sahara is an unforgettable experience. The Erg Chebbi Dunes, located close to Marrakech, offer a 4x4 off-road safari adventure and a camel ride to witness the stunning sunrise over the sand dunes. Don't miss out on these exciting Morocco desert activities during your trip to this fascinating country.
ITINERARY FOR 7-DAY KTM MOTO BIKING DESERT TOUR FROM MARRAKECH TO FOUM ZGUID
DAY 1: MARRAKECH - TIZI-N-TICHKA - AIT BEN HADDOU - OUARZAZATE
We will greet you at Marrakesh airport or your hotel and take you to Ouarzazate, a former caravan town on the silk and salt route in the eastern foothills of the Atlas Mountains. Ouarzazate is known as the Gateway to the Sahara. Our journey will take us through the dramatic landscape of the High Atlas Mountains, passing through the Berber town of Taddert and over the 2260 meters high Tizi-in-Tichka pass. We will make a stop at the famous Kasbah Ait Benhaddou, which is located 30 kilometers from Ouarzazate. The kasbah is one of the most intriguing red-earth castles lining the ancient road of the Kasbahs and is a UNESCO world heritage site.
DAY 2: OUARZAZATE - TAZENAKHT - FOUM ZGUID
We will begin our tour with an easy run on a fast, graded piste to the south of Ouarzazate, passing through Tazenakht, where we will visit a Berber village. In the afternoon, we will embark on a dramatic ride through the Jbel Saghro, taking little-used mountain tracks that wind through remote villages hidden in the spectacular canyons of this mountain range. The terrain can be rocky in places, with tight uphill/downhill turns that will challenge your use of the rear brake. We will spend the night in a hotel in the town of Foum Zguid.
DAY 3: ZGUID - M'HAMID
This stunning KTM desert tour starts from Foum Zguid and takes you through dry stone deserts and oasis valleys towards the breathtaking foothills of the Sahara desert dunes. You'll witness extraordinary rock formations, feel the warm sun on your skin, spot camels along the way, and enjoy peaceful nights under the starry sky - an unforgettable experience for every Sahara desert enthusiast!
DAY 4: M'HAMID - TAFROUT SIDI ALI
Watching the sunrise in the Sahara is an unforgettable experience. After breakfast, we will start driving towards Tafraout Sidi Ali from M'hamid. If you would like to visit nomads off-road (into the sand!), we can arrange that as well. We will stay in a small family guest house tonight, where you can prepare yourself for the largest Sahara adventure and discover the real Morocco with Moto Merzouga.
DAY 5: TAFRAOUT SIDI ALI - N'KOUB
Embark on a thrilling journey to the sand dunes of Tafra Sidi Ali with Moto Merzouga. Our expert desert team will guide you through the stunning desert landscape to Naqoub, a hidden gem off the beaten path. Immerse yourself in the authentic Bedouin lifestyle and discover the real Morocco on this unforgettable adventure.
DAY 6: N'KOUB - OUARZAZATE
After spending a peaceful and unforgettable night in nKoub Village, wake up early to witness the spectacular sunrise. Enjoy a typical breakfast before continuing your journey towards Ouarzazate via Nkob. As you make your way to the highest point of Draa valley, you'll discover one of the historic meeting places of the caravans during the 16th century.
DAY 7: OUARZAZATE - MARRAKECH
For travelers interested in exploring small towns and archaeological sites on the way from Ouarzazate to Marrakech, there are many points of interest worth seeing. One of these is Ait Benhaddou, a UNESCO World Heritage Site known for its ksar: a cluster of earthen structures surrounded by stone walls that represent a traditional pre-Saharan habitat. Another interesting stop is the kasbah of Telouet, a Berber village where many drivers taking this route pause for a traditional meal. Whether you're interested in history, culture, or simply enjoying the scenic views, there's something for everyone on this route.