Phone / WhatsApp: +212 668 57 53 40








We provide top-quality motorcycles for our Morocco and Merzouga Moto Biking tours, ensuring that you have a safe and comfortable ride. Our bikes are regularly serviced and maintained to ensure that they are in top condition for your adventure.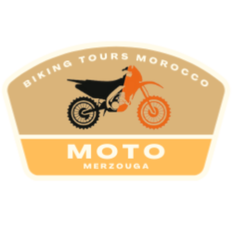 Price quote / Contact











Phone / WhatsApp: +212 668 57 53 40


Our Motorcycle Morocco tours are designed to give you a unique and unforgettable experience of the Merzouga desert dunes and other stunning landscapes of Morocco.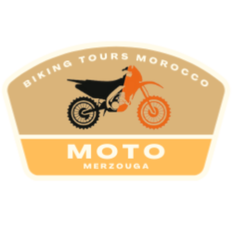 All Morocco KTM Tours

You'll also spend an unforgettable night at a desert camp under a starry sky. Don't miss out on this incredible adventure! Discover the beauty and history of Morocco with our 2-day desert tour. Begin your journey in Merzouga, a charming town located in the heart of the Sahara Desert, surrounded by breathtaking sand dunes that make up the Erg Chebbi. Visit the stunning Dayet Srji salt lake, a seasonal oasis for migratory and desert birds.
2-DAY KTM MERZOUGA DESERT MOTO BIKING TOUR FROM MERZOUGA
Explore the rich cultural heritage of Morocco, with influences from Berber, Arab and European civilizations. Experience the thrill of the Sahara Desert with our range of desert activities. Spend a night under the stars in a desert camp, an unforgettable experience for any traveler. Take an off-road 4x4 safari adventure and ride a camel across the sand dunes at sunrise. Don't miss out on this incredible opportunity to explore the wonders of Morocco's desert landscapes and cultural treasures. Book your 2-day desert tour today!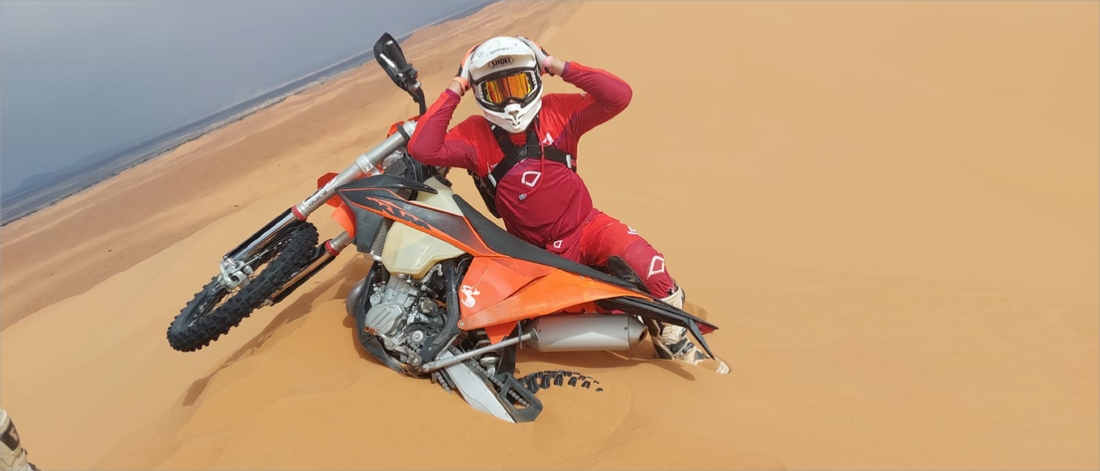 Price quote / contact

Private AC Vehicle + Fuel.
The Rental Of One Motorcycle

Experienced English-Speaking Driver (Guide).


Assistance Vehicle And Mechanic
Insurance Of Motorbike During Our Tour

Camel Trek With Professional Guide (Desert Tours).


Airfare. Fuel. Riding Gear. Fines.
Room Service Charges. Laundry.

Rest-Day Activities Not Included In Our Itinerary.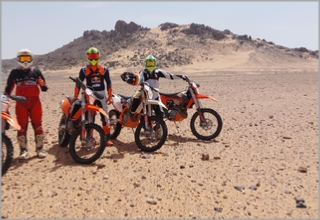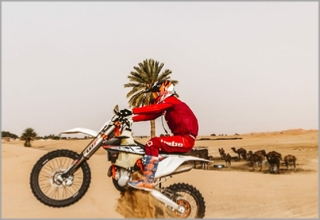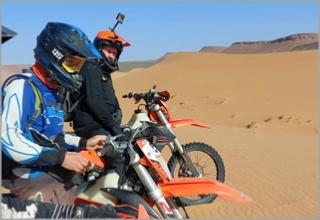 Meals. Medical Or Repatriation Insurance

1 Night Stay With Breakfast At Desert Camp

Pre-And-Post Tour Hotel Accommodations.

Reserve Your Tour
2-DAY KTM MERZOUGA DESERT MOTORCYCLE TOUR FROM MERZOUGA
The 2-day KTM adventure tour around Merzouga Dunes is a highly sought-after trip for travelers, particularly those with limited time. During this tour, you'll have the chance to explore various tourist and historical sites while enjoying exciting activities like Merzouga KTM riding.
INCLUSIONS & EXCLUSIONS FOR 2-DAY KTM MERZOUGA MOTO TOUR FROM MERZOUGA
THIS IS AN EXHILARATING ADVENTURE THAT TAKES YOU ON AN UNFORGETTABLE JOURNEY THROUGH THE STUNNING MOROCCAN DESERT. HERE ARE SOME TOP REASONS WHY YOU SHOULD CONSIDER RESERVING THIS TOUR:
Experience the Moroccan desert: This tour takes you deep into the heart of the Moroccan desert, where you can witness the stunning beauty of the sand dunes, oases, and rocky terrain. You'll get to experience the vast expanse of the desert landscape and see breathtaking sunrises and sunsets.
Ride a KTM motorcycle: This tour is an ideal opportunity for motorcycle enthusiasts to ride a KTM motorcycle through the desert terrain. The KTM bikes used on this tour are designed for off-road adventures and are the perfect vehicle for exploring the rugged desert landscape.
Expert guides: You'll be accompanied by expert guides who are familiar with the desert terrain and can provide you with valuable insights into the local culture and traditions. They'll ensure that you have a safe and enjoyable experience during your tour.
Comfortable accommodations: You'll stay overnight in comfortable accommodations in a traditional Berber campsite, where you can enjoy a delicious Moroccan dinner and breakfast. You'll also have access to clean and modern restroom facilities.
Cultural immersion: You'll have the opportunity to immerse yourself in the local Berber culture and learn about their traditions, music, and cuisine. You'll also visit a traditional Berber village and learn about their way of life.
ITINERARY FOR 2-DAY KTM MERZOUGA DESERT MOTO BIKING TOUR FROM MERZOUGA
DAY 1: MERZOUGA – VISIT NOMADS – MERZOUGA
Today, after breakfast, we will begin our motorcycle ride in Merzouga by familiarizing ourselves with the necessary motorcycle equipment. Once you are prepared for the ride, we will journey through the towering dunes of Erg Chebbi, allowing you to experience the stunning beauty of the Sahara as we pass by oases, villages, and landmarks such as Tisardmine, Azrkam, and Saf Saf. We will pause for a lunch picnic and tea before continuing to explore the desert dunes and visiting with nomadic communities. Finally, we will make our way to the village of Merzouga, where our adventure will come to a close.
DAY 2: MERZOUGA - PARIS-DAKAR-MERZOUGA ROAD
Our Merzouga excursion continues today, and after breakfast, we will embark on a delightful walk amidst the dunes. We will also drive along the route of the historic Paris-Dakar rally, adding an extra thrill to our adventure. After a day full of excitement and adventure, we will make our way back to the village where our Moto 2 Merzouga day trip will come to a close.