Phone / WhatsApp: +212 668 57 53 40








We provide top-quality motorcycles for our Morocco and Merzouga Moto Biking tours, ensuring that you have a safe and comfortable ride. Our bikes are regularly serviced and maintained to ensure that they are in top condition for your adventure.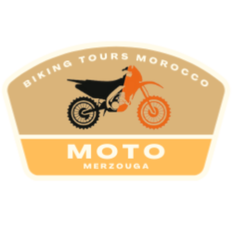 Price quote / Contact











Phone / WhatsApp: +212 668 57 53 40


Our Motorcycle Morocco tours are designed to give you a unique and unforgettable experience of the Merzouga desert dunes and other stunning landscapes of Morocco.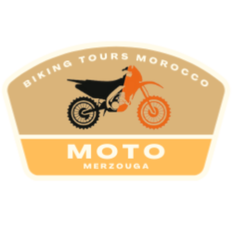 All Morocco KTM Tours

You'll have the chance to witness the natural beauty of the region, including Kasbahs, hidden oases, valleys, gorges, mountains, and the awe-inspiring Sahara desert. Additionally, you'll visit several historical sites such as the old fortified Kasbah of Ait Benhaddou, Taourirt Kasbah, Telouet Kasbah, Marrakech attractions, and Essaouira monuments.
The tour also includes several exciting activities such as camel trekking, hiking, sandboarding, and spending a spectacular night in the Sahara desert under the stars. Overall, this tour is an ideal way to experience the diverse beauty of Morocco and create lasting memories.
6-DAY MOTO BIKING TOUR FROM MARRAKECH TO DEEP MERZOUGA DESERT
Motorcycle touring requires specific equipment and techniques to ensure a safe and enjoyable trip. A touring motorcycle designed for long-distance travel and equipped with luggage carrying capacity is typically used. Proper preparations include planning a suitable route through unfamiliar areas, packing essential tools, locating food and overnight accommodations, and finding fuel in remote areas. It's also important to take care of the rider's physical well-being during the trip.
Motorcycle touring can involve camping or attending rallies along the way. To fully enjoy the experience, it's important to plan ahead and be prepared for any challenges that may arise during the trip. With the right equipment and planning, motorcycle touring can be an exciting and rewarding adventure.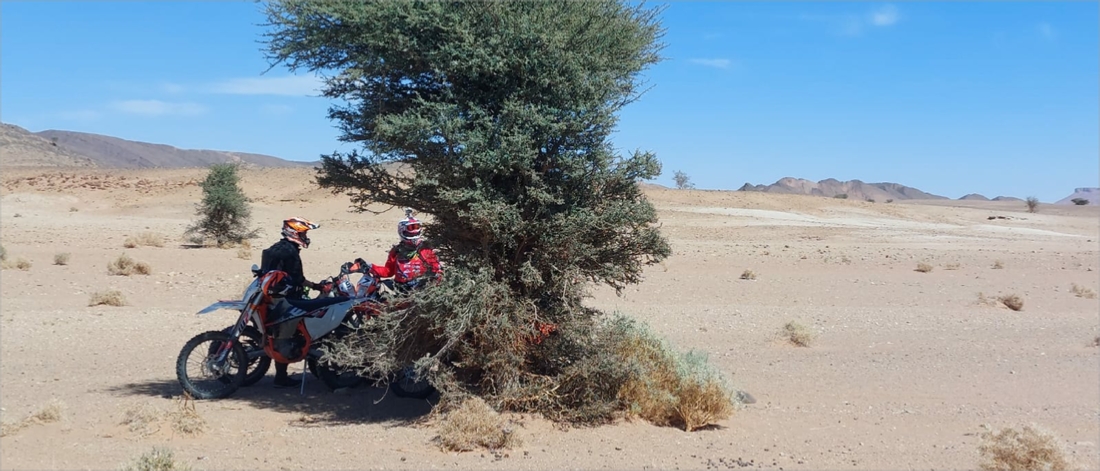 Price quote / contact

Private AC Vehicle + Fuel.
The Rental Of One Motorcycle

Experienced English-Speaking Driver (Guide).


Assistance Vehicle And Mechanic
Insurance Of Motorbike During Our Tour

Camel Trek With Professional Guide (Desert Tours).


Airfare. Fuel. Riding Gear. Fines.
Room Service Charges. Laundry.

Rest-Day Activities Not Included In Our Itinerary.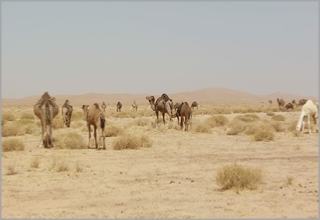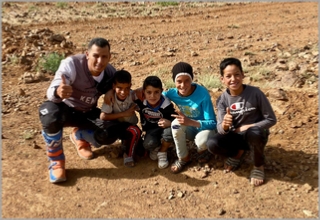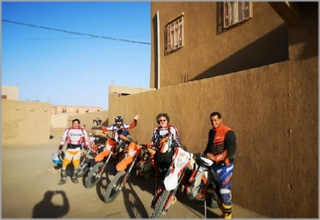 Meals. Medical Or Repatriation Insurance

1 Night Stay With Breakfast At Desert Camp

Pre-And-Post Tour Hotel Accommodations.

Reserve Your Tour
6-DAY MOTO BIKING TOUR FROM MARRAKECH TO DEEP MERZOUGA DESERT
Embark on an exciting 6-day tour from Marrakech, passing through the Sahara desert, Marrakech, and Ouarzazate. This tour offers an unforgettable experience, allowing you to explore various natural and historical landmarks in a short period of time.
INCLUSIONS & EXCLUSIONS FOR 6-DAY MOTORCYCLE TOUR FROM MARRAKECH
Embark on a thrilling motorcycle tour from Marrakech to the Sahara Desert and discover the unique blend of Berber, Arab, and European influences in Morocco. Marrakech's medieval district, the medina, is a bustling hub of activity with its Jemaa el-Fna square and traditional souks offering a variety of goods like ceramics, jewelry, and metal lanterns. Rabat, the capital city, features the impressive Oudayas Kasbah, a 12th-century fortress overlooking the ocean.
One of the highlights of this tour is the opportunity to experience the wonders of the Sahara Desert. Spending a night in the desert is an unforgettable experience for first-time visitors to Morocco. The Erg Chebbi Dunes, the closest to Marrakesh, offer a range of exciting activities including an off-road 4x4 desert safari adventure and a camel ride during sunrise across the sand dunes. This motorcycle tour promises an adventure like no other, showcasing the best of Morocco's culture and natural beauty. Get ready for an unforgettable journey through the diverse landscape of Morocco, from the vibrant city of Marrakech to the breathtaking Sahara Desert.
ITINERARY FOR 6-DAY MOTO BIKING TOUR FROM MARRAKECH TO MERZOUGA
DAY 1: MARRAKECH - TIZI-N-TICHKA - AIT BEN HADDOU - OUARZAZATE
We would be delighted to welcome you upon your arrival at Marrakesh airport or at your hotel. From there, we will embark on a journey to Ouarzazate, a former caravan town situated in the eastern foothills of the Atlas Mountains, known as the Gateway to the Sahara. Our journey will begin with a drive through the High Atlas Mountains, offering a dramatic landscape and stunning views. We will pass through the Berber town of Taddert and ascend the 2260 meters high Tizi-in-Tichka pass. Along the way, we will take in the beauty of the surrounding mountains.
Our first stop will be at the famous Kasbah Ait Benhaddou, located 30 kilometers from Ouarzazate. This ancient red earth castle is one of the most intriguing castles that line the historic road of the Kasbahs. It has also been recognized as a UNESCO world heritage site, making it a must-visit destination for any traveler. Overall, our journey from Marrakesh to Ouarzazate promises to be a memorable experience, showcasing the beauty of the Atlas Mountains and the ancient treasures of Morocco.
DAY 2: OUARZAZATE TO NKOB
As we depart from Ouarzazate, we will head towards the northeast and pass by the largest solar field in the world on our 2020 motorcycle. We will then venture through the High Atlas Forest and up to the high plains, where we can marvel at the various colors of the Atlas Mountains and enjoy the stunning views. Our journey will end in the famous Berber village of Naqoub, where we will spend one night in a guesthouse. This charming village is home to 52 traditional cachaas, and offers a unique opportunity to immerse ourselves in the local Berber culture. We will have the chance to explore the village and learn about the Berber way of life. Overall, this leg of the journey promises to be an unforgettable experience, with breathtaking landscapes, stunning views, and a chance to discover the rich Berber culture of Morocco.
DAY 3: NKOUB - MERZOUGA
Today, we embark on a journey to Merzouga, where we will brave the challenging Paris Dakar track that passes through the dry sand river of Rheris. As we make our way through the track, we will be treated to breathtaking views of the valley of the Ziz River. After our adventurous drive, we will arrive at the sand dunes of Merzouga, where we will visit an isolated Berber village. Here, we will spend the night in a luxurious camp nestled between the majestic dunes of Erg Chebbi. This experience will offer us a rare glimpse into the Berber way of life, as well as a chance to witness the unparalleled beauty of the desert landscape. It promises to be an unforgettable adventure that will leave us with lasting memories.
DAY 4: MERZOUGA - ALNIF
In the morning, we will wake up early to witness the stunning sunrise over the dunes of Merzouga. After enjoying a delicious breakfast, we will depart for Alnif. Our journey will take us through a vast expanse of desert, characterized by harsh and rugged terrain, with windswept sand dunes dotted with occasional trees, thyme, and other desert plants. We will travel through this starkly beautiful landscape before arriving in Alnif, a charming town located in the Tinghir province of Drâa-Tafilalet in southeastern Morocco. With a population of around 3,770 inhabitants according to the 2014 census, Alnif is a small but vibrant community that offers a glimpse into the daily life of the people of the region. We will have the opportunity to explore the town and discover its unique culture and traditions.
DAY 5: ALNIF - OUARZAZATE
After enjoying breakfast in Alnif, we will depart for Ouarzazate. Alnif is known around the world for its abundance of fossils, and the journey will take us on a beautiful track between the two mountains of Djbel Sahro and Djbel Ougnat. We will spend the night in Ouarzazate and have dinner in a comfortable hotel.
DAY 6: OUARZAZATE - MARRAKECH
For travelers interested in exploring the small towns and archaeological sites along the route from Ouarzazate to Marrakech, there are many points of interest to see. One of the highlights is Ait Benhaddou, a UNESCO World Heritage Site town known for its ksar, a collection of earthen structures surrounded by stone walls that represent a traditional pre-Saharan habitat. Another notable stop is the kasbah of Telouet, a Berber village where many visitors pause for a traditional meal. There are plenty of other intriguing towns and sights to see as well, making for a fascinating journey through this region of Morocco.